Discover more from Tangent
Tangent is a small Internet detour meant to bring insight, joy, and help you find the beauty/interesting in the mundane. It will also host longer pieces, which I call musings.
Howdy! 🤠
This edition of Tangent is a going to be a bit different. In fact, I'm switching things up a bit.
Every so often, I will dedicate an edition of this newsletter to share things that entertain, delight, make you think, or invite you to go in your own tangents.
I've been adding sections like this mixed with essays, but I think creating a dedicated space for them will be more useful to you. Let me know what you think in the comments!
---
Quote I'm pondering
I recently discovered the Paris Review. It is a long-standing literary journal full of interviews with some of my favorite authors. I read an interview with American writer James Baldwin from 1984. This excerpt stood out to me (emphasis mine):
BALDWIN: When you're writing, you're trying to find out something which you don't know. The whole language of writing for me is finding out what you don't want to know, what you don't want to find out. But something forces you to anyway.

INTERVIEWER: Is that one of the reasons you decided to be a writer—to find out about yourself?

BALDWIN: I'm not sure I decided. It was that or nothing, since in my own mind I was the father of my family. That's not quite the way they saw it, but still I was the oldest brother, and I took it very seriously, I had to set an example. I couldn't allow anything to happen to me because what then would happen to them? I could have become a junkie. On the roads I traveled and the streets I ran, anything could have happened to a boy like me—in New York. Sleeping on rooftops and in the subways. Until this day I'm terrified of the public toilet. In any case . . . my father died, and I sat down and figured out what I had to do.
---
Essays you should read
The Wages of War: The Cost of Freedom by
Why you should read it: Dekera combines history and her own family legacy to deliver a poignant and nuanced essay. We cannot turn a blind eye that Independence Day was relative; freedom for some, continued enslavement for others. Dekera shares a very personal story that should give anyone pause when they think racism in the US doesn't exist anymore.
My history with the ghee-laden Bharuchi Akoori by
Why you should read it: Perzen reads like she's sitting across the table and telling you food stories as you take a bite of what she just made for you. I feel like Anthony Bourdain would have had a lovely conversation with her. Anthony is not around anymore, but we are, and can enjoy her food tales.
The Mucha Method by
Why you should read it: Michael shares the surprising story of the Art Nouveau movement and Alphonse Mucha. In essence, Mucha "sold out" as an artist to gain the freedom to then make the art that his heart wanted to make. I think there are modern parallels with artists and creators today that this essay forces us to reflect upon.
---
Book I'm reading
The Book of Laughter and Forgetting by Milan Kundera
I guess it was the perfect excuse. Milan Kundera's death last week prompted a visit to my bookcase. I'd bought this book years ago in one of those compulsions where you can't leave an bookstore empty handed.
It aligned perfectly with my realization that I needed to read more fiction/novels. I believe they are still the maximum expression of writing craft. Telling truths nestled between stories that will live in your mind for the rest of your days.

I'm enjoying this book so far, I like that we get glimpses of Kundera and his life intertwined with magical realism, heart wrenching vignettes, and effortless suspense.
---
What I'm listening to
If you think this newsletter is a psyop operation sponsored by the Italian recording industry to try to make Italian pop mainstream worldwide…well, I wouldn't blame you for reaching this conclusion.

I'm still deep in my Italian Pop phase. Some obsess over Taylor Swift. This is apparently my thing. Italian singer and crush Annalisa has been on a tear over the past year. Her music has become omnipresent in radio and video waves and elevated her to Italian Pop Star status. This catchy tune feels modern, melancholic, and just really well designed for what it is (a crowd-pleasing Pop song).
---
Photo(s) of the week - Reynisfjara Beach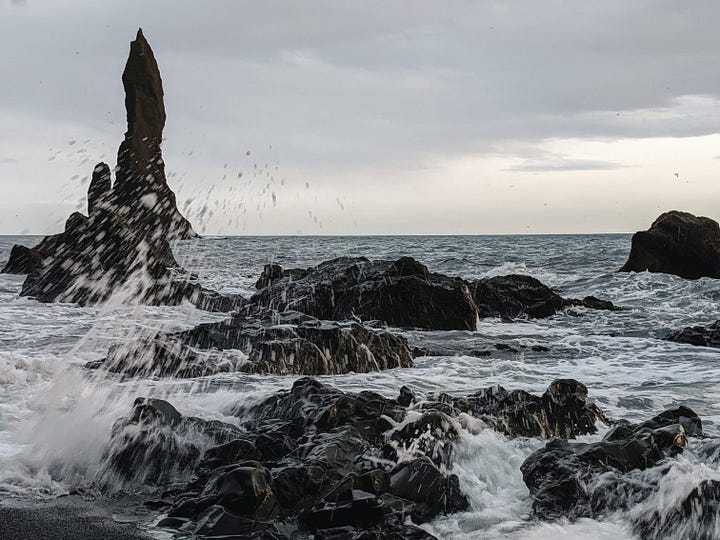 In August 2019, I took my favorite solo trip–two weeks driving around Iceland in pursuit of serenity and wonder. Iceland feels like another planet; perhaps that's why I don't find planetary colonization very interesting.
I took these photos at Reynisfjara (Black Sand Beach). The beach is famous for its black sand, jagged tower-like rock formations, and hexagonal columns of basaltic rock.
Photographing beaches may be one of my favorite things.
---
Final thoughts
A friend of mine lost her brother this week. He was robbed in Bogotá and suffered fatal wounds. I got to meet him last year when he visited his sister in Seattle. It makes his death more painful. Death is hard, particularly when it is brought upon by senseless events. A life for a cellphone and a bicycle. You can't explain it. There is nothing to explain. Just pain. Impotence.
We are finite. Our fate is crystal clear, yet the circumstances are always murky. It could be tomorrow. It could be in 20 years. I realized this is partly why I write. In the face of a sudden end, my words will live on to comfort and evoke nostalgia.
I want to be missed. But I don't want to cause pain. They are inextricably linked.
It also makes me wonder what justice really means. I don't think none of us know really.
---
Thank you for reading and until next week!