Discover more from Tangent
Tangent is a small Internet detour meant to bring insight, joy, and help you find the beauty/interesting in the mundane. It will also host longer pieces, which I call musings.
Hello friends and welcome to new subscribers! 🎉. Thanks for taking this small Internet detour. Feel free to read this post for a brief glimpse as to what this newsletter is about.
---
Today was one of those days that felt like a season finale. I submitted my resignation to Google and began saying goodbye to colleagues.
I thought it would be relevant to share my goodbye email publicly. After all, many of you reading this have been part of my Google journey even if you are not there anymore.
It feels bittersweet and I'm honoring that rollercoaster of emotions.
Goodbyes are never easy, especially when you've been in one company for over 1/5th of your life. Fortunately, I'm also filled with a sense of serenity about my decision, uncertainties and all. As I've mentioned before, listening to my body and my instincts have validated that it's time for a change.
Besides, I'm feeling lucky about what the future holds.1
---
I'm Feeling Lucky
From: Camilo Moreno-Salamanca
Subject: Leaving Google - Thank you
Hello friends,

After over 7 years, my Google journey has come to an end. My last day will be April 18th.

Little did I know that the guy who had never worked in sales previous to Google would undertake such a transformational journey; living in multiple cities, visiting multiple countries, covering multiple regions and most market segments in all my years of Cloud sales.

I learned what working hard and having fun looked like. I learned how important culture and psychological safety are for high performing teams. I learned the value of collaboration over competition, praise over criticism, questioning over condemnation. I've learned to have the irreverent spirit that has characterized Google historically (perhaps I didn't learn that, but it blossomed here).

The people.

It has always been, it is, it will always be the people. I've worked with some of the most passionate, thoughtful, determined, intelligent people on this planet. What a gift. Most of my current friendships were built across lunches, games of volleyball, MK venting sessions, offsites, holiday parties, and virtual 1:1s. I believe the strongest predictor of a long, joyful life is the quality of the relationships we forge. I've made enough wonderful bonds to make me eternal (ok, very old…you get the point).

Leaning on my peers has helped me survive many bouts of impostor syndrome, frustration, and waning confidence. To them I owe my success. Also, I want to thank the leaders I worked for during my time here: Bruno Barreto, Carlos Basterra, James Sutton, Ketan Patel, Camilo Clavijo, and Chris Crompton. Thank you for believing in me.

As I depart, I want to leave you with a challenge and a question.

The challenge

The 2004 Google Founders' IPO Letter began with the following words:

"Google is not a conventional company. We do not intend to become one."

It's been my endeavor to uphold this maxim. To be unconventional, wholehearted in supporting my customers, challenging the status quo, infusing originality in my work. I didn't always succeed, but I never lost sight of this goal.

Dare to be unconventional. Dare to question. Dare to speak up. Dare to seek joy and purpose in what you do. Dare to challenge whatever gets in the way of that.

The question

Regularly ask yourself the following: "How am I complicit in creating the circumstances I say I don't want?"

This question has been instrumental to my personal development over the past year. A powerful mirror that forces us to accept our agency and face our fears, insecurities, and constraints.

Stay in touch

What is next for me? I will take some time off to figure out what's next. In the meantime, I plan to pursue current passions (writing) and explore new ones (fill in the blank). If you'd like to keep up with me, I recommend following my Substack blog, or my website. 

Here are other ways to get a hold of me: email: camilo@camiloms.com   Linkedin: https://www.linkedin.com/in/camiloms/   twitter: camilomoresala

I will miss working with all of you and I leave Google with a full heart thanks to crossing paths with you. 

Onwards!

ps. Please ask hard Dory2 questions.
---
Media Worth Consuming
The U-Turns of Youth by Rachael Tiss: In this essay, Rachael takes us on a ride through many cars across many years down a trip through nostalgia. I love one of Rachael's conclusions in this piece: "I'm my own cartographer designing the map as I go."
The Steve Jobs Archive: A book capturing Steve Jobs' collection of speeches, interviews, and thoughts was just released for free. Steve Jobs is a complicated figure; a maven that combined technology and art and transformed the world in ways few people have done in the past century. But also a flawed individual known for his cruel behavior.
Accepting and naming his imperfections while seeking his wisdom seems like the most productive approach to me. And in this treasure trove made public, there is plenty for us to explore. (Bonus: Check out Steven Foster's short video on it)
Dissect Podcast MX1E2 "Nosetalgia" by Pusha T & Kendrick Lamar: I'm always floored by the depth of analysis and research that Dissect host Cole Cuchna performs on any songs he studies. After listening to this episode where he breaks down the song "Nosetalgia," I'm left with the impression that rap as a literary genre is not taken seriously enough, and as creatives we can and should source more inspiration from rap music.
The sophistication in the references, sampling, and composition of this song are awe-inducing. Fair warning, if you are not a fan of rap/hip-hop, this may not be the episode for you.
---
Photo(s) of the Week
Enjoy a few shots from my Google days.
Upper row: A picture of me and my Mom on "take your parent to work" day in 2017. A baby-faced Camilo excitedly donning his Noogler3 hat on my first day in 2015.
Bottom row: A picture of the Google Android after my 1st day orientation at the Googleplex. A picture of my work desk for my first team (LATAM SMB Sales for Google Apps for Work).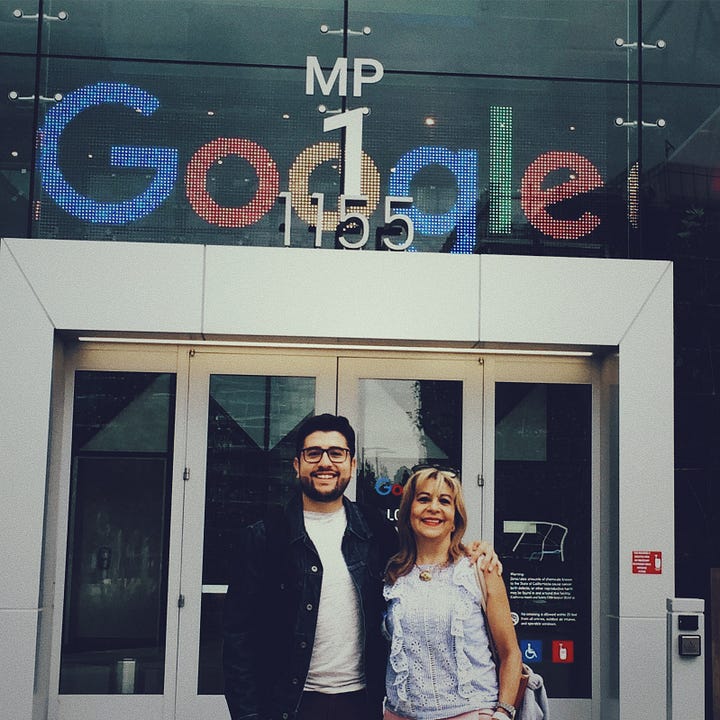 Until next time!
1
I had to use a "I'm Feeling Lucky" reference. I just had to do it. Writing this sentence made me feel like Carrie Bradshaw from Sex and the City. I cringed a bit.
2
Dory is the internal Google tools for gathering questions and capturing answers for any public meeting. This tool has been instrumental in creating a culture of accountability, and truth-seeking at Google. Unfortunately, the constant leaks of these questions and their responses has diluted the value of this tool.
3
Term used for new Google employees. Unfortunately, this hat has gone missing.