Discover more from Tangent
Tangent is a small Internet detour meant to bring insight, joy, and help you find the beauty/interesting in the mundane. It will also host longer pieces, which I call musings.
Howdy,
This week, I'm giving you little snippets like some of the previous editions of this newsletter.
Next week, I'll be back with a piece on one of my favorite writers. Stay tuned!
---
Paid Subscriptions
When I started my Substack earlier this year, it suggested I turned on paid subscriptions. I was embarrassed to even consider it.
Who was I to ask readers for money?
I imagined myself as The Professor from Money Heist and thinking that turning on the paid subscribers option would be my equivalent of robbing the Royal Mint of Spain. A brilliant heist. But a robbery nonetheless.
My tendency for self-deprecating humor can lead me to a place where I draw these comparisons with a straight face. I have to be confronted by friends about my dramatic flair and made aware that 1) it's normal to have paid subscribers, 2) throughout history artists have pursued ways to get paid, and 3) I'm literally not holding anyone at gunpoint. People can say "no thanks" from the comfort of their couch. I'm not taking hostages.1
So I'm opening up paid subscriptions. Right now, there will not be anything that distinguishes paid subscribers from free ones.
I'm a street performer that hopes to delight with prose in this digital plaza.2 Think about a paid subscription like leaving a few bucks on the collection hat next to me.
In the future perhaps I'll find innovative ways to delight paid subscribers. Here are some ideas:
I'll ghostwrite break up notes, so you don't end up ghosting anyone. I've been a break up courier since the 7th grade (sorry, Meredith). For example, is your situationship is way too into horoscopes and you've had enough? I got you:

"Dear Ada, I consulted with my astrologist, and with Venus in retrograde and Pluto on Pisces, I just don't think we are compatible in this current solar cycle, you know? Keep that Aries energy though, your fire will help you kindle your next love. Best celestial wishes."

I'll turn your grocery list from tedious chore to marvelous adventure:

Pioneer to the frontier of your local Whole Foods! Collect all five different flavors of ice cream your children demand while holding your breath as if you were in space. Somersault over the fruit stand with half-green bananas as you make your way to the blueberries. Take a bottle of kombucha from someone else's cart. It's not a shopping trip. It's a quest.


I can offer things other than writing. For instance, paid subscribers will get a video of me lip syncing to Britney Spears' "Toxic."3 But only lip synching, no costume or full choreography (that's for my OnlyFans subscribers).
As you can see by this initial brainstorm, I may need a few more ideas.
---
The Moment Before
This short story follows the prompt: Write a story in 100 words.
I believe fiction is the way to tell the world's logical truths, viscerally. And I believe any writer, no matter what sliver of this craft they choose to master, needs to maintain a deep romance with fiction. Otherwise, you become a nonfiction junkie (h/t Ellen Fishbein).
Here is a short story titled, "The Moment Before":
Star-gazing as star-crossed lovers.
We'd seen wildlife, the wild, and our shared wilderness.
We traversed hundreds of miles in a rusty Ford Bronco. You told me about your first kiss, your deepest pain, your shattered dreams. Your gaze lingered weightless; I saw the galaxy in your eyes and was drawn towards your infinity.
We laid under the sky on a moonless night. A fiery orb grew from bright freckle to celestial body, roaring in a whisper. Unplugged from the world, confusion gave way to resignation.
Eyes locked. We embraced. Our first and last kiss.
Austin Foticos
Last week, I went to Austin for my yearly Austin pilgrimage. I lived in Austin from 2018 to 2020 and still hold fond memories of the land of breakfast tacos, nightly bat migrations, and January cedar allergies.
I attended the Write of Passage4 meet up and finally met a few Internet friends in person. Not all online spaces encourage optimism, kindness, and collaboration. But Write of Passage continues being a magical place where you level up your writing, meet wonderful humans, and realize that we all have boundless potential.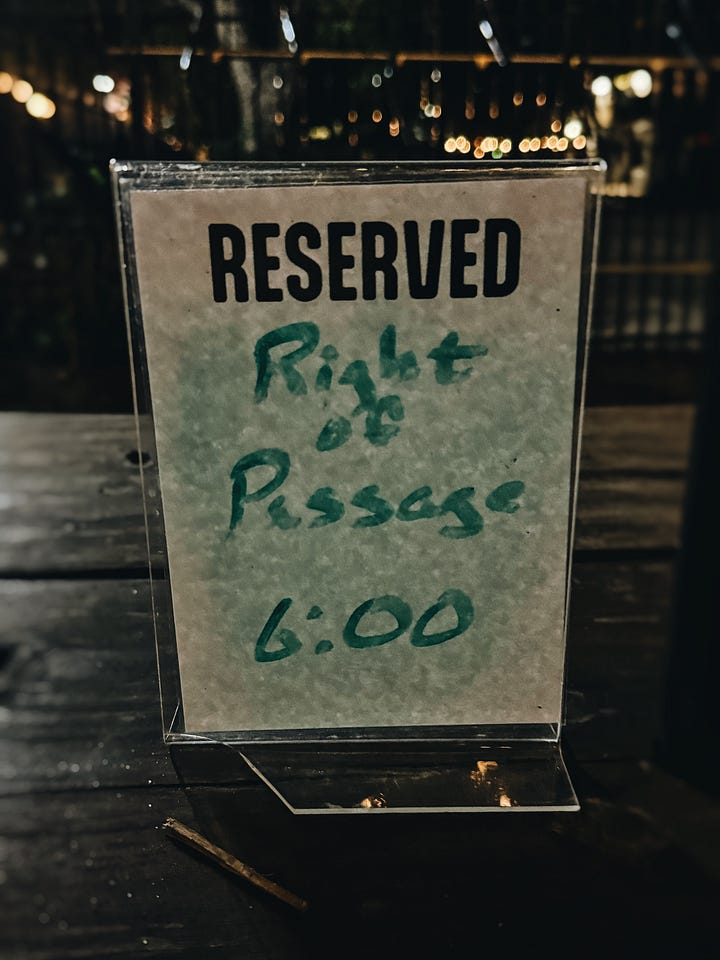 Earlier that day, I spent some time with
,
,
, and
. These humans have become genuine friends. I've been blessed to bond with people I genuinely respect and admire. We are bound by our curiosity, wit, ambition. Truly some of the kindest and most collaborative people I've met. It's truly special. Oh, and they are damn good writers.
I've also spent quality time with my friends Craig and Taylor (playing uncle to their wonderful children), and caught up with my friends Andrea and Madison (no shortage of laughter with them ever).
Lastly, here are some photos I took while wondering around town. Austin will always have a piece of my heart.
Until next time!
1
But I do know where a few of you live, so yeah, if times get tough…
2
My friend
wrote about his
first paid subscriber
. That post served inspiration to finally allow for paid subscribers.
3
One of the best songs of the 21st century. Fight me.
4
The sign at the venue said "Right of Passage," so I think that's what the course should be name from here onwards.