Discover more from Tangent
Tangent is a small Internet detour meant to bring insight, joy, and help you find the beauty/interesting in the mundane. It will also host longer pieces, which I call musings.
Tangent: Potpourri edition
Some cookie dough thoughts, shooting your shot, and playing tourist
***Hello returning friends and welcome new subscribers! 🎉. Thanks for taking this small Internet detour and honoring me with your attention.***
Hello friends,
This week I'm taking a break from some of the longer pieces I've published in the previous weeks. This is what I have for you this week:
A second helping of cookie dough thoughts1

A reminder to shoot your shot

Photos of the week
Here we go!
---
Cookie Dough Thoughts
Therapy Notes
This was my last week with my therapist. The end was prompted by my Google healthcare coverage expiring and my therapist declaring "I think you have advanced enough that you won't need me for a while."
I'm very thankful for her support and the progress made from being in the midst of depression to where I am today. Here are some epiphanies from my time in therapy that I want to share with you:
My behavior doesn't guarantee any outcome: I have the tendency to expect my actions to have results most of the time, which creates unhealthy expectations that come bite me in the ass.

This is toxic residue from my work environment and it will take a while to unlearn, but decoupling my actions from expectations has been huge for my anxiety (when I remember to decouple them that is).

Reframe external validation from a weakness into a strength: I've lived this lie where I thought I had become a Zen monk and not sought any external validation. I've written about the importance of being process-oriented, and thought that this was an indication of my evolution away from thirsting for approval.

Lately, I've realized that I have a natural tendency to seek external validation, and instead of seeing this trait with shame, I need to find a way to reframe it in a way that serves me. It's a work in progress on that front, but I know the current approach doesn't serve me.

We are ourselves singularly AND in the context of others: Introspection junkies can fall pray to exploring all the nooks and crannies within themselves in search for life guiding wisdom. This is helpful.

Yet, we should be equally tuned to understanding how we are seen by others, how that perception aligns with our values, and how we can become better versions of ourselves through interacting with others. If it was obvious to you, congratulations! It wasn't for me.
"Time Heals Everything"
My friend
wrote
the following tweet
earlier this week:
I'm guilty of saying this to myself and others. But her tweet made me reconsider. And I really like this reframe. The wounds are the wounds; scars will be borne. But we also get bigger. And that growth comes through awareness.
In his book Lighter, author yung pueblo outlines the five elements of awareness necessary for healing:
Feel your emotions as they come and go.

Come to terms with your past and notice the way it shows up in your present.

Watch your mind as it processes difficult situations.

Take note of behavior patterns that show up repeatedly in your life.

Examine your inner narrative and how your own thinking affects your emotions.
We heal by growing, not by pretending time is a magic eraser for our traumas.
Question on beauty
Do we have a primal inclination for beauty, or is it evolved? Did the first Homo Sapiens appreciate their cave paintings as art, or merely as communication devices?
Were they mesmerized by sunsets, did they stop smell the flowers, did they find beauty in their movements under the moon? I don't mean Mesopotamian, Romans or Incas. Waaayyy before that. When hunting and gathering was all the rage.
I've been thinking a lot about craft and beauty. And I don't know whether beauty is a social construct that has endured for thousands of years, or if it was there at the very beginning and it has a special survival-related purpose that I just don't know about. What do you think?
Shooting your shot
Last week I wrote about Cole Cuchna and his prodigious ability to breakdown music in his Dissect podcast.
This was an assignment for Write of Passage. Another part of the assignment is to reach out to the subject of your curation piece and share what you wrote with them.
Good things generally happen when you share you work publicly, and especially if you do things with a lot of care and intent.
So I shot my shot and got this reply:
It's a good feeling when your work is recognized by someone you respect. I'm trying to lean into that more, while not expecting things to go this well all the time. I'll face many more rejections and/or cold emails that stay frozen in inboxes.
But I hope what you take away from this is that really cool things can happen if you send that email or message. And sometimes nothing happens. But the upside is worth taking the risk (at least that's what I'm trying to tell myself).
Photos of the Week
Over the past few weeks I've had multiple friends from out of town come visit me. It has given me a chance to play tourist and experience Seattle more deeply than I'm used to. Oh, and we've also had great weather, which is abnormal this time of year. Here are some of my favorite shots: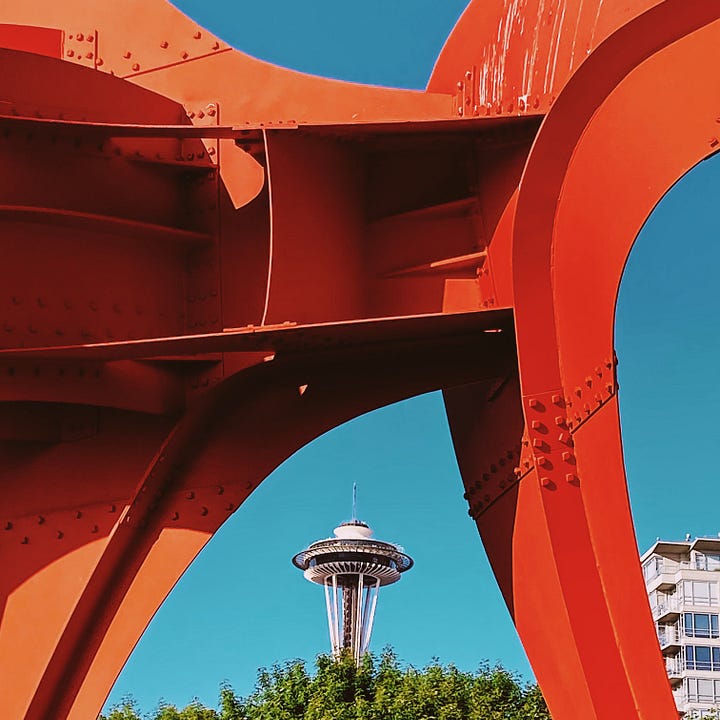 Until next time!
1
I first shared cookie dough thoughts in Tangent #20 and defined it as "They are not quite half-baked ideas, per se. They are more like cookie dough ideas. They may be absolutely terrible, or indulgently delightful (interesting)."