Discover more from Tangent
Tangent is a small Internet detour meant to bring insight, joy, and help you find the beauty/interesting in the mundane. It will also host longer pieces, which I call musings.
Welcome old and new friends! 👋 Thank you as always for taking some time to read Tangent. And for sticking around! Here is what I have this week for you:
1) My take on all-inclusive resorts
2) A Poem read at the wedding I attended
3) Wedding pictures (not my wedding)
Here we go!
---
My Mom and I walked into the resort and my eyes were immediately drawn to the pool.
Its royal blue colored surface was the length of a football field and underneath its ripples you could read in bold cyan cursive "Royalton."1 There was a stage with a big screen at the edge of the pool. This is where resort employees would endeavor to entertain guests through ridiculous antics and tropes about gringos that nobody questioned since they were boozed up and half paying attention.
Then, I noticed red. Everyone's skin was red. Not creamy beige or pale white. Red2. I don't know if sunblock is a forbidden substance that got held in customs at the airport. I don't know if I just happened to be at the resort the same weekend as the "Skin Masochists" Convention. But everyone was red.
And people were just there lounging. Laying horizontal while hoisting their phone to provide forehead shade, scrolling through the same social media sites they scroll in their living rooms.
I turned my attention away from the pool onto the main floor bar. Green and blue bottles of gin, quarter empty bottles of tequila, and cheap beer lined up the bar as angsty sunburnt guests corralled for one more piña colada, their nth shot of tequila, and of course the "I'm in Mexico, so why not" big glass of Margarita.
I instantly went from feeling like a guest to feeling like an anthropologist. I was in Mexico for a wedding. Yet, I found myself in the village of a foreign tribe of tourists with tastes, indulgences, and attitudes very different to mine.
All-inclusive resorts are cathedrals of convenience. A monument to the many ways we try to make life easier, and presumably, more enjoyable for everyone.
It starts at the entrance, where bellboys dash to grab your bags, no matter how unbearably light they might be. "It's easier this way. There are 1,200 rooms here, so you can get lost easily." How convenient. Then, as you check-in you are given the mythical wristband that gives you unlimited food and drinks. There are seven restaurants, multiple food kiosks, and 24/7 room service. And if you are looking for liquor don't fret; in addition to bars every 200 meters, there are booze stations where a bartender flicks the bell of the Casa Azul Reposado Tequila bottle as if they were church bells summoning inebriated guests. How convenient.
And the hallmark of gastronomic convenience for these places is the buffet. The whole scene was absurd to me. And as I was taking it in, I couldn't help but think I was watching a National Geographic documentary with the stereotypical British narrator that went like this:
We now enter the hallowed grazing grounds for all guests in this establishment: The buffet. Hordes of burnt and slightly tipsy humans wander around the different buffet areas to find inspiration, do a cursory health inspection, or find the one thing they are not allergic to and will heap onto the ceramic white plate.

At the buffet, these humans experiment with different flavors and textures. Pizza with melon on top? Why not? A soggy taco with a side of past al-dente pasta and a cheesecake all huddled on one plate? It's all possible.

Notwithstanding, it appears as if these humans do not possess the gustatory sense to discern flavorless potatoes or unsalted eggs. This appears to be a consequence of a moderate state of inebriation or severe dehydration.
There are pools everywhere. There are even pools right outside your rooms. They are probably inspired by those Tahiti beach resorts people dream about, only with stale, chlorinated water. How luxurious.
I was also drawn to the large plastic creatures in the kids swimming pools. Once again, I feel like I'm watching a National Geographic documentary: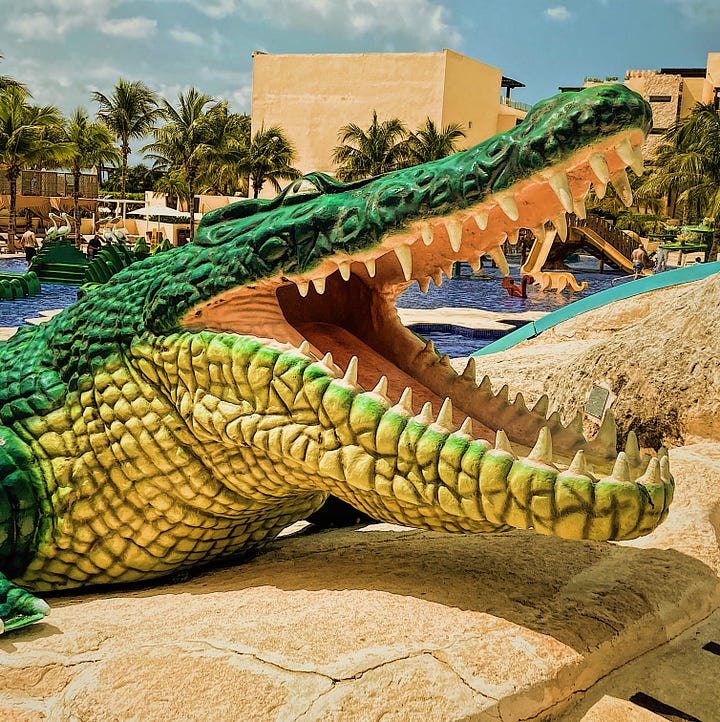 The young humans rush towards the pool, to the dismay of their parents who have not attached them with the appropriate flotation devices to guarantee their survival. 

The pools are adorned by large mythical figures: A serpent, a sea turtle, a crocodile. These reptilian figures tower over the water with expressions of amusement that stand in stark contrast to their stature. 

To the side of the pool, adult humans could procure a variety of advanced flotation devices handcrafted from the finest industrial plastics, in very specific shapes that are meant to delight their offspring.
There is a Spa, of course. The kind with seven types of scented oils, five types of massages, and three types of saunas. To top it off, there are shops for everything you forgot. Curated excursions. A place for you to leave your kids. Everything you could imagine. It's all there.
For some of you this sounds blissful. If you have small children, I can see the appeal of not having to deal with rides, car seats, waiting to pay, etc. If you come in a group, I can see the appeal of making it easier for people to gather and relax together. 
I fear that in a pursuit of convenience we develop an allergy to struggles, mishaps, and unexpected occurrences that tend to turn trips into memories. While I was exploring the resort, I kept thinking about this passage of Tim Wu's The Tyranny of Convenience essay:
"But we err in presuming convenience is always good, for it has a complex relationship with other ideals that we hold dear. Though understood and promoted as an instrument of liberation, convenience has a dark side. With its promise of smooth, effortless efficiency, it threatens to erase the sort of struggles and challenges that help give meaning to life. Created to free us, it can become a constraint on what we are willing to do, and thus in a subtle way it can enslave us."
Perhaps I rest differently. Perhaps I don't know how to rest. But it is hard for me to think of the Royalton and its environment as a peak experience. It is perfectly designed for people to eat and drink like Romans without philosophizing. For me it's telling that experiences where we overindulge are seen as a good vacation.
What makes these hedonistic escapes so attractive is perhaps how little we afford ourselves these indulgences in our daily lives. We repress taking time to eat a nice meal with our kids, lounge in the sun, have a drink with friends. We treat all-inclusive resorts as a Rumspringa3 of sorts because we feel unable to create moments of indulgences in our routine, lest we let our careers suffer.
For me a good holiday is novelty, play, doing things, making things, absorbing knowledge, and yes, resting. But it has to be a mixture of these elements. A morning of reading/journaling by the pool followed by a museum outing/excursion, capped off by a seaside dinner and a night of dancing. And interwoven with these experiences are little detours, surprises, and imperfections that make the experience memorable. That's my kind of holiday.
My tuna steak was pretty good though.
---
A Poem
At the wedding I attended they read this lovely poem written by Oriah Mountain Dreamer.4
You can read it here, but here is an excerpt from it:

It doesn't interest me who you know or how you came to be here. I want to know if you will stand in the centre of the fire with me and not shrink back.

It doesn't interest me where or what or with whom you have studied. I want to know what sustains you from the inside when all else falls away.

I want to know if you can be alone with yourself and if you truly like the company you keep in the empty moments.
---
Photo(s) of the Week
Here are some photos my friend's wedding (Anita & Josh). It was a lovely ceremony with a blend of Venezuelan and American flavors. They committed to their love under a breezy sunset and my Mom and I danced the night away until my knees buckled (as it should be).
Also, it's time to upgrade from my iPhone SE (this thing is like two presidencies old).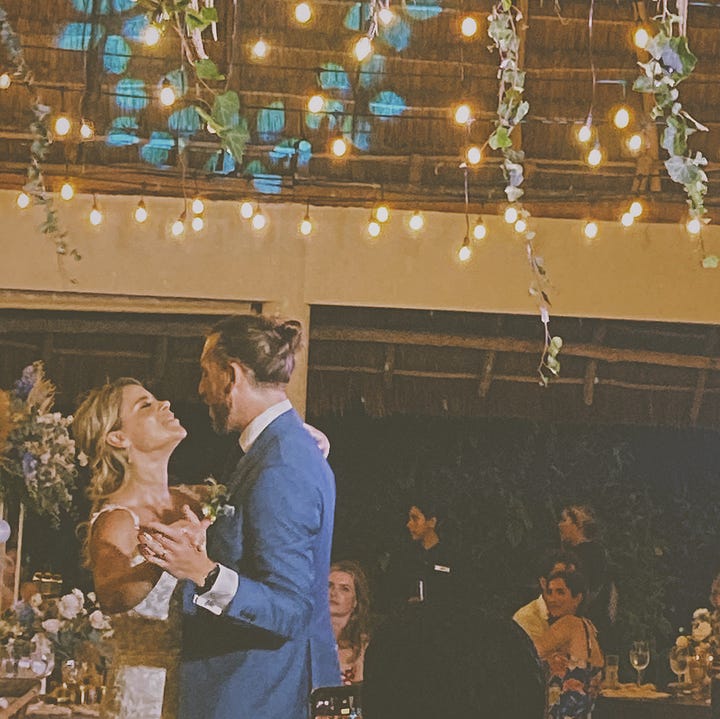 Until Next Time!
Big thank you to
1
Like Royal + Bridgerton together. A bit pompous if you ask me.
3
Rumspringa is an Amish tradition where teenagers are allowed to temporarily break free from their strict community rules. During this time, they can explore the outside world, use technology, wear modern clothing, and engage in activities typically forbidden in Amish life. It's a period for self-discovery and deciding whether to fully embrace the Amish way of life or leave the community. (ChatGPT)